Coronavirus LIVE updates: India reports 11 deaths, total lockdown from today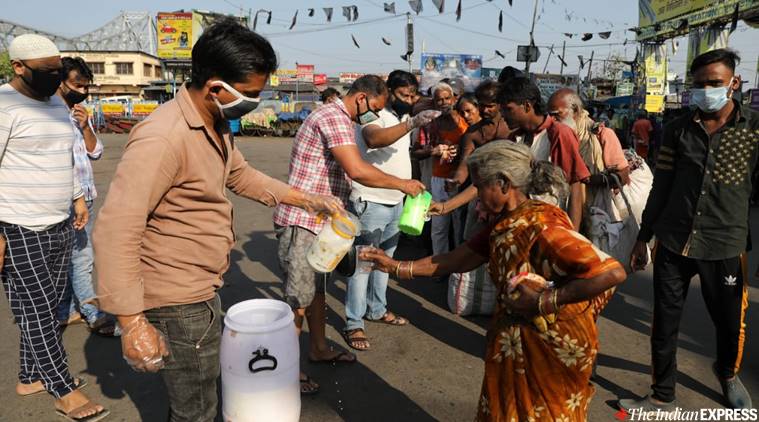 Homeless and poor being fed at Howrah station. (Express photo by Partha Paul)
Coronavirus India Live Updates: The total number of novel coronavirus (COVID-19) cases in India has risen to 694, including 16 deaths, the Health Ministry said in its latest bulletin on Thursday. Among these, 44 patients have recovered so far.
Addressing a press briefing earlier, Lav Aggarwal, Health Ministry Joint Secretary, said that the rate at which the numbers are increasing appears to be relatively stablising. "However, this is only the initial trend," he said.
With India undergoing a 21-day lockdown till April 14, Finance Minister Nirmala Sitharaman also announced a economic package worth Rs. 1.7 lakh crore to help those who have been affected directly due to the nationwide lockdown.
Prime Minister Narendra Modi also participated in a virtual summit of G-20 leaders, chaired by Saudi King Salman, to discuss the coronavirus pandemic.
Globally, the death toll has reached 22,993 with Italy reporting the highest number of casualties at 8,165 followed by Spain, which crossed China's toll on Wednesday, at 4,145, China at 3,169, Iran at 2,234 and France at 1,331 deaths so far. While the total number of confirmed cases across the World has reached 500,000 today.
(Follow our full coverage on coronavirus pandemic and India lockdown)
Live Blog
As coronavirus cases climbed to 694 in India, FM Nirmala Sitharaman today unveiled COVID-19 relief package. Follow LIVE updates here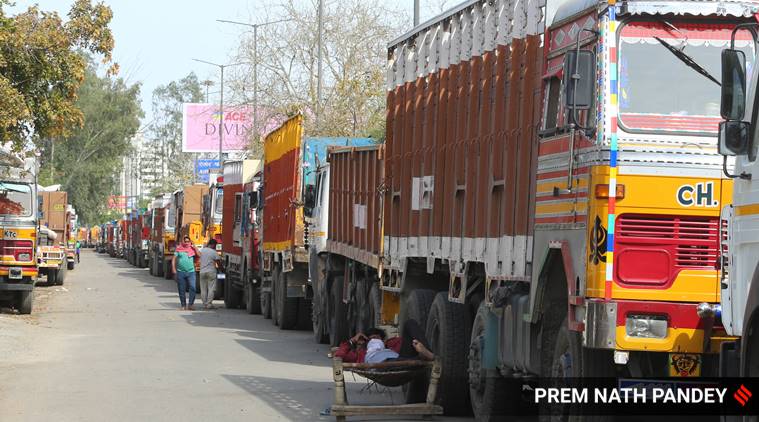 Coronavirus latest LIVE updates: Supply trucks stuck in Ghaziabad, near UP's border with Delhi, Wednesday. (Express photo by Prem Nath Pandey)
Coronavirus (Covid-19) latest LIVE updates:
Saudi Arabia's King Salman will chair the virtual summit on March 26 to advance the global coordinated response to the pandemic. Apart from the leaders of G-20, the heads of state of Jordan, Spain, Singapore and Switzerland are also scheduled to participate. The UAE will also take part in its capacity as sitting president of the Gulf Cooperation Council states.
In a separate video conference earlier this week, G-20 finance ministers and central bankers agreed to develop an action plan to respond to the outbreak, which the IMF expects will trigger a global recession.
A video conference of senior health professionals of SAARC countries to share their experiences of combating the spread of COVID-19 is also proposed to be held on March 26. The major topics of discussion will be "practical joint action on online training capsules for emergency response teams, setting up of an Integrated Disease Surveillance Portal, creation of a Common Research Platform and coordination of research…"
In India, as the 21-day nationwide lockdown kicked in Wednesday, confusion prevailed among local authorities and police over exemptions, causing major disruptions in last-mile supply of food and grocery items, which are part of essential goods and services and exempted from prohibitory orders.
While some authorities including Delhi Police, Gurugram Police, Noida Police and Ahmedabad Municipal Corporation instituted mechanisms for allowing home deliveries, including issuing curfew passes to the staff of Amazon, Flipkart, BigBasket, Grofers, Swiggy, Zomato, etc, many raised concerns over non-adherence of Union Ministry of Home Affairs (MHA) orders in different states. Offline retailers such as Future Retail, which operates the Big Bazaar chain, also complained that police confiscated bikes and keys of its staff and even beat them up on their way to stores.
Meanwhile, Prime Minister Narendra Modi Wednesday interacted with citizens of Varanasi. During the interaction, he warned of tough action against those misbehaving with healthcare professionals and airline crew. "People in whites in hospitals and clinics are our Gods now; they should be respected. They are saving us by risking their own lives," PM Modi said.
On Tuesday, in the first step for unorganised sector workers, the Centre had asked states to devise schemes for the use of Rs 52,000 crore of unutilised cess collected under the Building and Other Construction Workers' Welfare Cess (BOCW) Act and transfer these funds to the bank accounts of construction workers through the Direct Benefit Transfer (DBT) route.
The government is also planning to suspend invocation of the Insolvency and Bankruptcy Code (IBC) "for a period of six months so as to stop companies at large from being forced into insolvency proceedings in such force majeure causes of default."
Here's a quick Coronavirus guide from Express Explained to keep you updated: Are smokers at high risk form coronavirus? | Can Vitamin-C prevent or cure coronavirus infection? | What exactly is community spread of coronavirus? | How long can the Covid-19 virus survive on a surface? | Amid the lockdown, what is allowed, what is prohibited?
© IE Online Media Services Pvt Ltd